Volvo Charging Partners
Easy access to ChargePoint comes standard with
your Volvo Recharge.
Volvo Charging Partners
Easy access to ChargePoint comes standard with your Volvo Recharge.
Charging an electric Volvo at home or on the road should be easy and hassle free. Volvo has partnered with the industry leaders to ensure this. For home, public and workplace charging, Volvo recommends ChargePoint™. Their unmatched network and best in class equipment and technology will an ensure an easy experience that always leaves you charged. And for easy home installation of your Level 2 charger, we recommend Qmerit. With their simple estimator and the ability to connect you with proven electricians in your area, it takes the guess work out of it for you. Driving an electric Volvo is about having fun and reducing your emissions, have confidence that we have you covered when it comes to charging.
About ChargePoint
ChargePoint™ is the world's leading electric vehicle (EV) charging network, with more than 100,000 public charging locations in North America. They design, build and support all of the technology that powers this network, from charging station hardware to energy management software to a mobile app. They also offer residential charging with ChargePoint™ Home Flex so you can charge at home.
Creating a ChargePoint account will give you quick and easy access to these public charging locations, as well as thousands of stations on roaming partner networks such as EVgo and FLO. With a ChargePoint account, you can easily find stations and start charging everywhere you go. To sign up for a free ChargePoint account,
click here.
Charging Your New Volvo XC40 Recharge Pure Electric
Fueling your new XC40 Recharge Pure Electric has never been easier. For the ultimate in convenience, charge your vehicle while it's parked overnight at home with a Level 2, 240-volt home charger. For the best home charging experience, Volvo recommends ChargePoint Home Flex. With adjustable amperage (up to 50 amps) and the ability to add up to 74 miles of range per hour, ChargePoint Home Flex is up to 9X faster than a standard 120-volt wall outlet. ChargePoint offers connected features like reminders and scheduled charging, and is designed for reliability and safety.
Purchase a ChargePoint Home Flex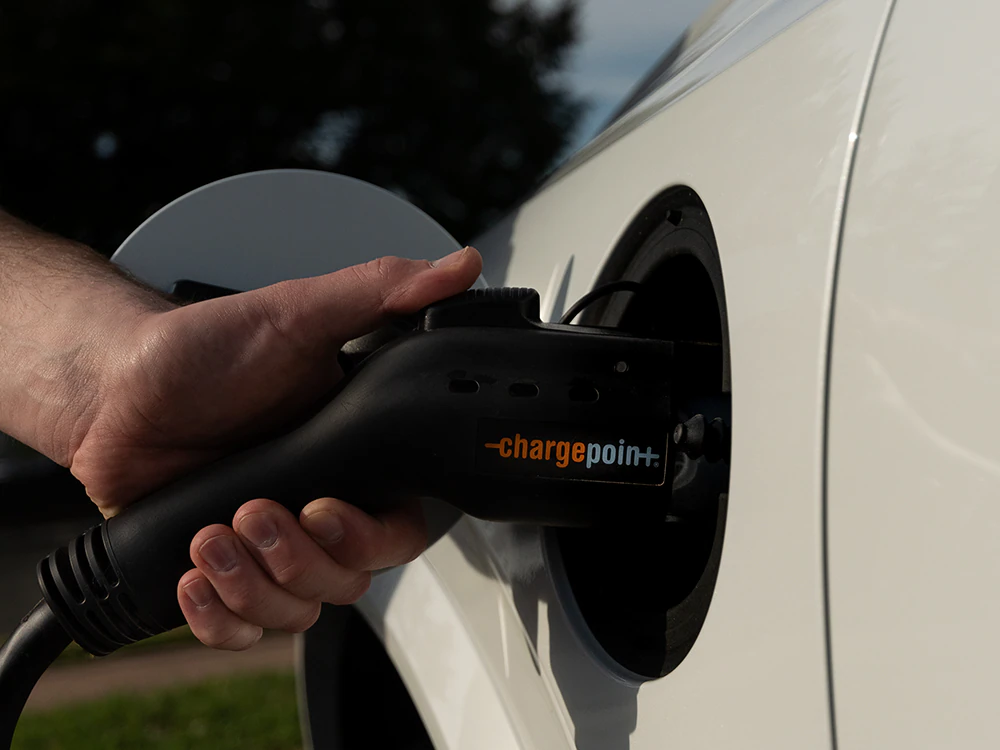 Installation Services
Installing your home charger is simple, but we recommend using a certified electrician and installation partner for best results. Volvo has partnered with Qmerit to make finding a local certified installer a breeze. Enter your contact information and answer a few short questions about your installation location, and Qmerit will handle getting you competitive quotes from vetted local electricians.
Find an installer near you
Contact Qmerit M-F 8am - 5pm PT at (888) 272-0090 or customerservice@qmerit.com
Charging Your Volvo Away From Home
Sometimes you'll want to charge when you're on the go. Finding public stations is simple using Google Maps, Apple Maps or the ChargePoint app. You can remotely see pricing and availability of stations as well as station location.
Additional resources to help you charge on the go
Find a charging station
Creating a free ChargePoint account